Lorena Huitrón Vázquez. Una violencia sencilla. Mexico City: Instituto Literario de Veracruz, 2017.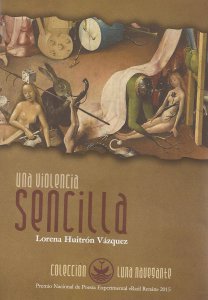 This book transcends its exploration about the body: our body. Its poetic narrative is composed of dolls that mimic the corporeal condition, scars, medical methods, and the back and forth of gravity with that lingering, stony guest: pain. The carefully designed landscape aches in our skin and rots us from within, in the heart of what we love and lack, between which there supposedly lies some contradiction. Because piety and compassion are essential to cure this wound. Those stitches that keep us alive. Work on the body of poetry.
We pay our debts with the sickness that, in any case, defines nothing. And with its pieces, tumors and lacquer, varnish and compassion, again and forever, meddled with in hospitals painted blue – just as Lorca wanted – with a violence that can hardly be called violence because it moves as slowly as life itself. It saturates the future with bitterness. Tightly. We need many scars, like the thrashing African dance whose vision inspired this book. A dying crack. Victoria de Sylvia. Little cuts that need dressing; this is how we should prepare ourselves for the immersion and joy of this torn and powerful poetry that Lorena Huitrón Vázquez brings to us with Una violencia sencilla, with definitive and poetic liberation. – Roger Santiváñez, 2016
.
Enrique Vila-Matas. Mac y su contratiempo. Barcelona: Seix Barral, 2017.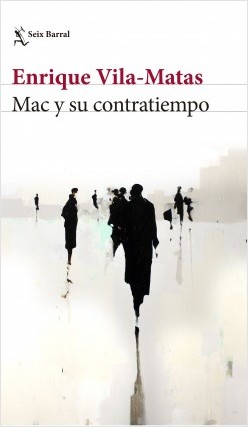 Mac, the protagonist and narrator of Mac y su contratiempo, is a passionate reader. He is a happy and whimsical man who prefers poetry and short stories to novels, a genre he considers too far removed from oral communication. Sixty years old and unemployed, he decides to write a "diary of initiation" that will serve as his literary debut. A notebook full of trivial occurrences, it reflects the modest and simple condition of its writer, a man who lives in a calm Barcelona neighborhood with independent children and a thoroughly settled romantic life. One day, he bumps into his neighbor, Sánchez, a "renowned Barcelonan writer," in a bookstore that both men frequent. He hears him lament the passage of time and how difficult it has become to remember his youth. He particularly pines for the year in which he "wrote a novel about a ventriloquist and an umbrella from Java (which hid a murderous tool), and about an evil barber from Seville." Mac remembers that novel, the deliberately sidewise memories of a ventriloquist, as both strangely beautiful and irregularly unhinged. He had stopped reading it halfway through, tired of the dizzying content, just as the critic had warned. His chance meeting with Sánchez motivates Mac to rewrite that imperfect novel, Walter y su contratiempo, based on his unfinished reading.
Thus turn the cogs of Enrique Vila-Matas' latest novel, which is resolved in mirrored tension combined with the unfolding of the narrator-diarist (writer) into the reader in timely harmony.
.
.
Elisa Lerner. Así que pasen cien años. Caracas: Madera fina, 2017.
This is the first complete edition of Elisa Lerner's chronicles. It is composed of her complete works as a chronicler: Una sonrisa detrás de la metáfora (1969), Yo amo a Columbo o la pasión dispersa (1979), Crónicas ginecológicas (1984), Carriel para la fiesta (1997) and En el entretanto (2000). This volume also includes a series of texts originally published in larger collections or periodicals, and concludes with a piece written especially for the new compilation. In these pieces, the reader will find the vestiges and ruins of a devasted country and time. Nevertheless, they will also encounter instructions for a new use of memory, where the young and the old remind us of time's direction.
.
.
.
.
Martín Caparrós. Comí. Caracas: Madera fina, 2017.
"And I took the little book out of the angel's hand, and ate it up; and it was in my mouth sweet as honey: and as soon as I had eaten it, my belly was bitter," wrote John in Revelations. This book, Comí, seems to adopt the same slogan. A man is going to undergo an operation. In order to do so, he must rid his intestines, stomach, and life of food. The man has three days to do away with everything he ate – along with himself. In these three days, the man considers his life through his meals. Sometimes, he seems similar to Martín Caparrós; sometimes he does not. Mysterious and explicit, hedonistic and paranoid, celebratory and whiny, Comí is a strange book. A mixture of novel, memory, essay, and trashcan, it is the story of a fall and is, above all, a brutal reflection on food, the body, and medicine. It is a new offering from Martín Caparrós, one of the indispensable Spanish-language authors of our time.
.
.
.
.
Mariana Bernárdez. Alguna vez el Ciervo. Mexico City: Editorial Praxis, 2010.
What is left behind after love's rupture? The agony of the condemned lovers upon embracing the emptiness, with fiery traces scattered in their memory, and somewhere between the uncertainty of how the leaves fall is found the rumor of a Stag. It is forced to run through the empty fields: both of their eyes are fixed upon it, yearning for the fallen kingdom. It is within this reality that the lovers, overtaken one day by upmost ire of the heavens, let go of one another, emptying each other as they go. That is where Mariana Bernárdez has placed her particular focus in this book. From there, the poet of Alguna vez el Ciervo interrogates herself about the reality of indifference and its wanderings. There, she pauses once more in order to light, contrite, an intimate flame with the soft and beloved remains of affection, because she knows very well that in the end, nobody "wants the memory of that which is lost." – Félix Suárez
.
.
.
.
Benjamin Moser, trans. Cristina Sánchez Andrade. Por qué este mundo: Una biografía de Clarice Lispector. Madrid: Ediciones Siruela, 2017.
After years of investigation spent on three continents, compiling unpublished manuscripts and dozens of interviews, Benjamin Moser demonstrates that Lispector's development as a writer was directly related to the turbulent story of her life. This book tells us the story of how a precocious little girl, through a long exile and difficult personal struggles, matured as an author.
.
.
.
.
.
.
Salvador Garmendia. Crónicas sádicas. Caracas: El Estilete, 2016.
El Sádico Ilustrado not only tells the story of Venezuela between 1978 and 1980, unequivocally summarizing the years in which the magazine circulated, but also allows for the appearance of a national memory that allows us to affirm that politics and humor can live side by side as rhythmic accomplices. All of the names that covered the pages of the practically mythical publication are now part of our cultural capital, that of a nation that is still being built with what could be read, seen, and mocked at that time. Without a doubt, Salvador Garmendia's work has become the cornerstone of the magazine. The words of Garmendia in Crónicas sádicas seem to be conspiring with those of the past in El Sádico Ilustrado, taking the most common story, the most daily cruelty, and our most typical routines to produce a freeze frame of what we are.
.
.
.
.
David Miklos, trans. Tanya Huntington. Debris. Houston: Literal Publishing, 2016.
"A turn of the screw from magical realism, Debris is a novel where everything is unique, yet repeats itself indefinitely."  – Alan Pauls
.
.
.
.
.
.
.
César Aira. Actos de caridad/Los dos hombres/El ilustre mago. Barcelona: Emecé Editores, 2017.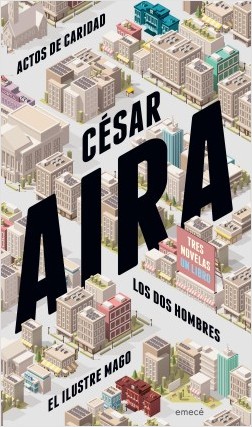 This book combines into a single volume three scintillating short novels previously published by César Aira in small editions with very limited circulation. With this publication, Emecé continues the enjoyable task of making this author's work available to a wider audience. He is, afterall, considered one of the most important and original contemporary writers.
From Actos de caridad: "In the exercise of charity, is there not so much as a shadow of self-interest, pride or vanity? Aren't the poor being used as a step in the climb towards the prestige of sainthood?"
From Los dos hombres: "The two men seemed to have always lived in the house, alone, isolated. If they had not been born there – which seemed unlikely to me – they had been in their room since they were boys, doors shut, never leaving, so as to conceal their deformities."
From El ilustre mago: "Ovando had led me to the exact place where my brain could emit the waves that, combined with his magical abilities, would give him the power to dominate the world: his old desire as a failed writer."
.
Daniel Link. La lógica de Copi. Buenos Aires: Eterna Cadencia, 2017.
Daniel Link approaches Copi hand-in-hand with three other authors – Fogwill, Aira and Cozarinsky – whose works and points of view are so different that Copi is presented as a singularity requiring multiple perspectives. Nevertheless, Link understands that, in order to undertake such a work, he should learn to situate it in contexts that seem to grow ever-further from any single label (Copi as historian, Copi as dramaturg, Copi as novelist, etc.). He must consider it from a present perspective that has evolved from the past.
.
.
.
.
.
Diómedes Cordero, trans. Silvio Mignano, ed. Igor Barreto. Mezzogiorno in Venezuela: 12 Poeti Contemporanei. Bilingual Spanish-Italian edition. Caracas: El Estilete, 2017.
Mezzogiorno in Venezuela offers a record of the changing of the times in Venezuelan poetry that took place between the sixties and the nineties. This record (a sort of small inventory) recognizes the context of each work as well as its resonance in the tradition of one of the most extraordinarily productive countries to the greater body of Latin American literature.
.
.
.
.
Romina Paula, trans. Jennifer Croft. August. New York: Feminist Press, 2017.
Traveling home to rural Patagonia, a young woman grapples with herself as she makes the journey to scatter the ashes of her friend Andrea. Twenty-one-year-old Emilia might still be living, but she's jaded by her studies and discontent with her boyfriend, and apathetic toward the idea of moving on. Despite the admiration she receives for having relocated to Buenos Aires, cosmopolitanism and a career seem like empty scams. Instead, she finds her life pathetic. Once home, Emilia stays with Andrea's parents, wearing the dead girl's clothes, sleeping in her bed, and befriending her cat. Her life put on hold, she loses herself to days wondering how if what had happened—leaving an ex, leaving Patagonia, Andrea leaving her—hadn't happened. A keen portrait of a young generation stagnating in an increasingly globalized Argentina, August considers the banality of life against the sudden changes that accompany death.
.
.
.
.
Luciano Lamberti. La casa de los eucaliptus. Barcelona: Literatura Random House, 2017.
A doctor gets lost on the roads that lead to the town where he was born. A young president receives a visit from a spirit that will reveal the secret to success. A man dies again and again, but always comes back to life. A group of skaters looks for the perfect spot and encounters creatures of another species. A contemporary artist undergoes a strange transformation into an animal.
With impeccable writing, both agile and quick, Lamberti uses his potent prose to illuminate the subtle, the unsaid, and the invisible.
.
.
..
.
Elvira Hernández. Los trabajos y los días. Buenos Aires: Lumen, 2016.
"A light crosses over like the slash of knife," goes a verse by Elvira Hernández, giving an idea of what takes place in all of her poetry. Sometimes it is nearly transparent, yet it is thoroughly enigmatic at others, full of strange territories and dark corners. There are always, however, lightning bolts that illuminate new meanings, fundamentally upsetting the well-known images and the broken language of politics, press, and business.
Los trabajos y los días comprises a work of more than thirty-five years, reestablishing the order in which the author's books were written (including two that remain unpublished, Cultivo de hojas and Pájaros desde mi ventana), a fact that allows the reader to access the modulation of one of the most unique voices of Chilean poetry for the very first time.
.
.
.
.
Humberto E. Robles. Michaux y su Journal de voyage: Hacia Ecuadores y Allende: Presencias, rastros y contrapuntos (con varios rescates y anexos). Barcelona: Paso de Barca, 2017.
"In that world, or part of it, the reader will find the otherness of the Andean, and unique, human pearls, such as the Amerindian, the Jew, and the small, pretentious bourgeoisie. Together with them are found the exuberance or arid nature of the landscape and metaphorical animals. There is no lack of biblical references in the text, alongside incoherent human action. The reader can travel through the jungle and the Andes (with its craters, ranches, and rivers), guided by Humberto Robles, but following the same route as Michaux, who said, 'I have seven or eight senses. One of them: the sense of that which is missing.'"
.
.
.
.
Chantal Maillard. La razón estética. Barcelona: Galaxia Gutenberg, 2017.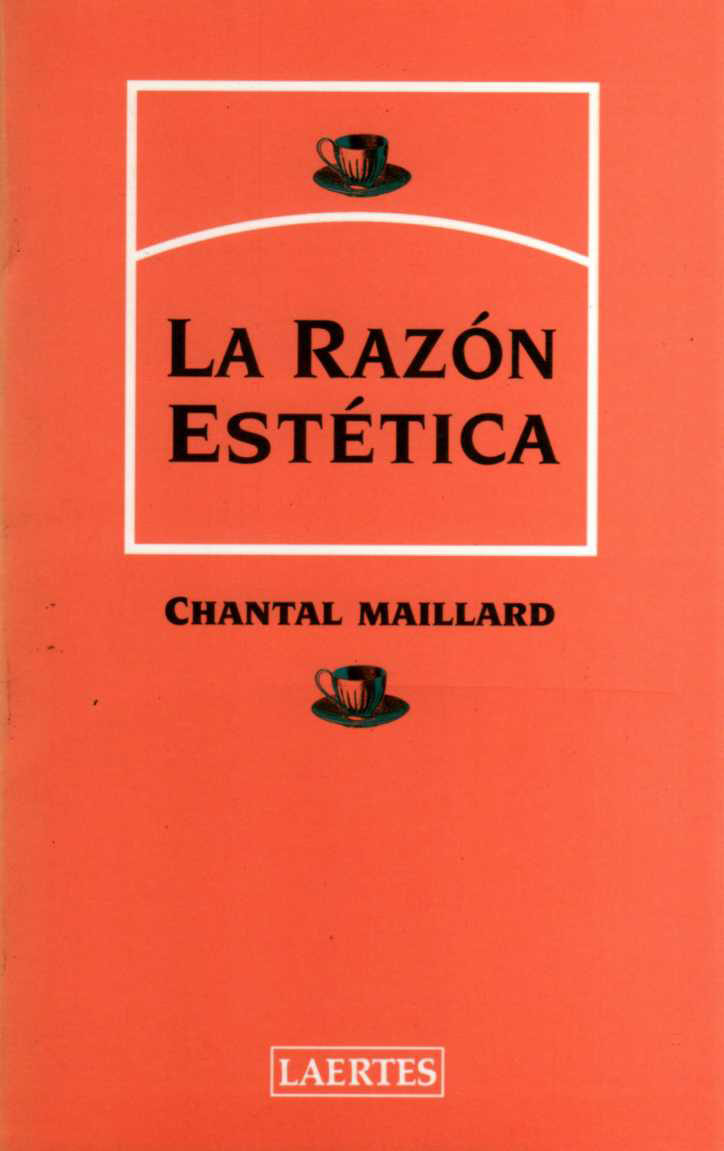 Western ethics and aesthetic have repeatedly demonstrated a worrying crisis of values that concerns both theory and daily life. At the same time, they have signaled the need for the formulation of a new model of rationality in order to resolve the problems that have arisen as a result. La razón estética offers a proposal for a new rationality that modernity acquires by showing the important connection that exists between communicative social reason and a vision of the world that begins with sensibility. Before the theoretical instances of a fixed system of values whose dogmatism puts at risk the possibility of the configuration of a living society, a sort of rationality is proposed which has as its first task a receptive opening, and as its second, communicative construction. Making reason into art – and the world into a work thereof – requires the learning of an aesthetic conscience. With the description of the "styles" of that aesthetic reason, its categories, limits, and possibilities, we are offered said aesthetic conscience as a valuation of that which is possible against that which is assured, as a transfiguring capacity of competition, of irony, humor, and the undoing of supposed limits. La razón estética is, definitively, an affirmative proposal for the learning of freedom.
.
.
Víctor Rodríguez Núñez, trans. Katherine M. Hedeen. Night Badly Written: Poems, 2000-2015. Notre Dame: Action Books, 2017.
This bilingual volume collects work from seven books by Víctor Rodríguez Núñez, one of the most prominent contemporary Cuban poets and critics. The poetry of Night Badly Written is that of migration, transnational consciousness, and the act of writing "from the glance of otherness." Rodríguez Núñez's poems prowl around the edges of the night, in search of a porousness that defies the concept of a border, since "[t]he shadow doesn't ask for my passport."
.
.
.
.
Carlos María Domínguez. El idioma de la fragilidad. Buenos Aires: Tusquets, 2017.
In the middle of the Second World War, Guy Delatour flees Montevideo on a boat of Argentine volunteers on their way to fight in Europe. Full of fictions from the movies (in which he hides his stutter), his journey to the real world forces him to confront sex, death, love, and spies that carefully watch the voyage in an ocean overtaken by German submarines.
However, what Guy does not know is that he is living in an unpublished manuscript, and that his experiences are really the lengthy, disguised confession of Arturo Despouey, the celebrated Uruguayan critic who became a war correspondent and BBC announcer. The man who puts the story together and reveals the destiny of a man who undertook an immense struggle with the fragility of words is Carlos Brauer, himself being determined to escape reality by reading fiction.
Like a set of cajas chinas, Carlos María Domínguez elaborates a delicate and perfect structure, where the bonds of truth and the imagination weave together a captivating novel that builds upon itself in an infinite series of mirrors.
.
.
Jorge Franco. Autobiographical Writing in Latin America: Folds of the Self. Amherst: Cambia Press, 2017.
Autobiographical Writing in Latin America: Folds of the Self proposes a reflection on contemporary Spanish American autobiographical discourse through four essays. It examines Spanish American autobiographical discourse in terms of the invalidation or problematizing of the great metanarratives of progress and liberation, the debilitation of the political, the emergence of marginal and marginalized subjectivities, an increased ecological consciousness, the climax of a social trend towards the visual and the spatial, as well as the vindication of intimism and the value of sensitivity and everyday sociality.
.
.
.
.
.
Andrés Mauricio Muñoz. Hay días en que estamos idos. Bogotá: Seix Barral, 2017
A child disappears inside his own house. A married couple faces down the challenge of reviving a plant they gave to their son. A woman psychologically annihilates her unemployed husband. A complicated love triangle takes hold of a couple and their domestic servant. An actress is consumed by the memory of her glory days. A man gradually loses and eventually witnesses the total failure of his home, thanks to his inability to confront an intruder.
In six short stories, the author makes tense and absurd dramas come to life. They spring from the daily situations in which the fragility of humanity is put on display, challenged by contemporary burdens. We are reminded that the most ferocious threats continuously stalk us from within ourselves.
.
.
.
.
Adelaida Fernández Ochoa. Afuera crece un mundo. Bogotá: Seix Barral, 2017.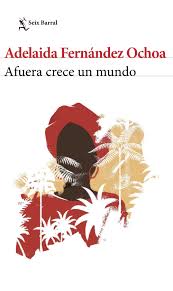 It is 1840, and several runaway and freed slaves from Cauca have joined the army of Los Supremos, with hopes of receiving support for their own cause: the abolition of slavery. However, Nay de Gambia, a black woman who administers the dairy and the garden of one of the properties of Ibrahim Sahal, a Jew, is convinced that true liberty cannot be obtained through the law. For her, the only way of obtaining it is to return to her country of origin. Together with her son, Sundiata, she will begin a long and difficult journey in pursuit of that dream.
Outside a world grows, recalling Nay from the pages of Jorge Isaacs' María. This time, she is the protagonist and narrator of her own story. Her voice is like a song, revealing a woman proud of her identity, confident in her strengths, and aware that she is the owner of her own life and body. Always true to her will, Nay subverts the false image that we have created about the black woman slave.
In this novel, winner of the Premio Casa de las Américas 2015, Adelaida Fernández pulls us remarkably close to the atmosphere in which she places her characters. Her book is a necessary and revealing return to the New Granada of the nineteenth century, written from the perspective of those who were enslaved.
.
.
Ignacio Martínez de Pisón. Derecho natural. Bogotá: Seix Barral, 2017.
At the very time in which he passes from childhood to adulthood in a Spain completely defined by the social opening that took place after the Transition, the imperious necessity of making sense of things throbs deep within Ángel, the protagonist of Derecho natural. He seeks order, given that his family has been a model of instability and disorder. His father, an erratic B-movie actor and Demis Roussos imitator, has an unsuppressed habit of fleeing home. His starring appearances and disappearances leave invisible but indelible marks on each one of his four children. The mother is a woman overcome by love but sick of believing in it; she will have to make superhuman efforts to take the reins of her own life in a Spain that has not yet fully awakened from franquismo. Through the conciliatory voice of Ángel, who will begin to study law and seek reconciliation with his father, we are brought to the Barcelona of the seventies and tbe Madrid of the eighties.
Derecho natural evokes in its title the years in which a complete legislative transformation was undertaken, contradicting the long period in which there was no overlap between rights and justice.
"How does one summarize a life?," asks the narrator in a given moment. Based on where the final period falls, that summary will become either a drama or a comedy. In the reconstruction that he pieces together, comedy and drama coexist with such inextricable intimacy that we are carried from excitement to laughter time and time again.
.
Renato Cisneros. Dejarás la tierra. Lima: Editorial Planeta, 2017.
For two hundred years, an ancient silence sealed up the mystery of a family too closely linked to the tragedies and ambitions of Peru. Rusty patriarchs, women shaking off the weight of their years; people, when all is said and done, who have been recovered by this book in order to consider a series of individuals who have reshaped the history of our republic. This novel reminds us of the families made up of all those hidden things; only a prose capable of crossing both that which is visible and that which is buried can track the course of what we call identity. If the desire to shape his own star led Renato Cisneros to write La distancia que nos separa, what he presents to us in Dejarás la tierra is, at the same time, a closure for the former tale and a confirmation that he is an author capable of reaching the precipice and then taking one more step.
.
.
.
.
Selenco Vega. El japonés Fukuhara. Lima: Fondo editorial APJ, 2017.
Selenco Vega Jácome's El japonés Fukuhara explores the sphere of affection in five confrontational stories that take place between characters connected either by friendship or by blood. It approaches the secret pasts of parents, conflicts between siblings, jealousies, and hidden challenges in the folds of friendship.
.
.
.
.
.
.
Carmen Ollé. Halo de la luna. Lima: Peisa, 2017.
Samantha is a beautiful teenager entranced by death. She inhabits a thin, pale body. Her parents have made arrangements so that she does not leave this world without having enjoyed the supreme pleasure of an erotic night. Her nanny, an older woman, has received the task of finding a lover to carry out their designs. And so Carmen Ollé begins this frenetic story, full of intrigues which carry it into the territory of the black novel.
Imbued with the ritual rhythm that beautifies daily life in the Eastern arts, this narration is an exploration of the impulses that Eros and Thanatos still exercise in our lives, just as they always have. Influenced by these forces, Samantha's story takes place in a climate marked by banality and perversion, in which the search for pleasure as an end unto itself exacerbates greed and the desire to possess.
In the great river that separates life from death, guarded by mythical Charon, dwell the puzzles that Ollé leaves with us: Is pleasure a means of liberation or of slavery? Can fiction exorcise the hardships of a life ravaged by violence and squalor?
.
.
Juan Villoro. El apocalipsis todo incluido. Mexico City: Almadía, 2017.
A tourist guide at Chitzen Itza gives a conference about the Mayan theory concerning the end of the world to impress a woman, and ends up influencing everything he has ever believed. After an initial walk through the city, a girl begins to suspect that her father lives with another family. A man who dedicates himself to statistics has a torrid romance with a stranger who lies when she is turned on. Characters who blow their own cover while in their own country watch their nation sink from the comfortable nostalgia of exile; they cross its borders over and over again just to watch the constant collapse with fresh eyes. The stories that comprise Apocalipsis (todo incluido) skillfully advance up steep slopes: dubious familial inheritances, courage derived from football, lifelong friends who serve as worst enemies. Nevertheless, they also navigate traitorous currents: the necessity for reinvention during every crisis, to survive the matches that are overwhelmingly lost. With precision and a tremendous sense of humor, Villoro creates citizens determined to ignore their own disgrace, be it through survival or sports, but also because they hope that when the world breaks into a thousand pieces, they will end up with something better.
.
.
.
Claudia Piñeiro. Las maldiciones. Buenos Aires: Alfaguara, 2017.
Román Sabaté enters the world of politics casually, but it is there that he seals his destiny. The permanent tension that exists between a young, provincial man's need for work and the hidden intentions of the politician who has chosen him as a private secretary is what moves this novel along: two men in conflict, in a story in which even paternity comes into question. Magic, double talk, and crime – anything goes. Las maldiciones exposes the truth of what some call "new politics": based on an absolute pragmatism that hides the unscrupulousness of deceit and unbridled ambition.
.
.
.
.
.
Antonio Ortuño. La vaga ambición. Mexico City: Páginas de Espuma, 2016.
The protagonist of these six interwoven stories – a forty-something writer, Arturo Murray – struggles and survives between the familial catastophe of the past and a grotesque present, built out of bad reviews, empty interviews, half-baked presentations, and a bank account with numbers dipping ever further into the red.
Even so, over the course of this book's six stories, like a Falstaff armed with sarcasm and deep dramatic conviction, Murray invokes an army in his defense, composed of heroic memories, sharp criticism, and profound shock in the face of loss. Above all, he bears the shadow of a fading mother and a kamikaze-like commitment to write, to always write at any cost.
Edited by Michael Redzich